The project lifecycle is a frequently discussed topic in project management practices. In this post, we share a real-life example of a project lifecycle related to the development of a new innovative product.
The life cycle is created by a real student enrolled in a project management course and is maximally tailored to the needs of the initial activities of each project management office. The study presented also contains some product-oriented details and is an important part of the overall picture of the project lifecycle in this example. The course is regulated by The Global Regulatory Network and is part of BVOP.org's Certified Project Manager program.
To get three free mock exams, just create an account now at BVOP.org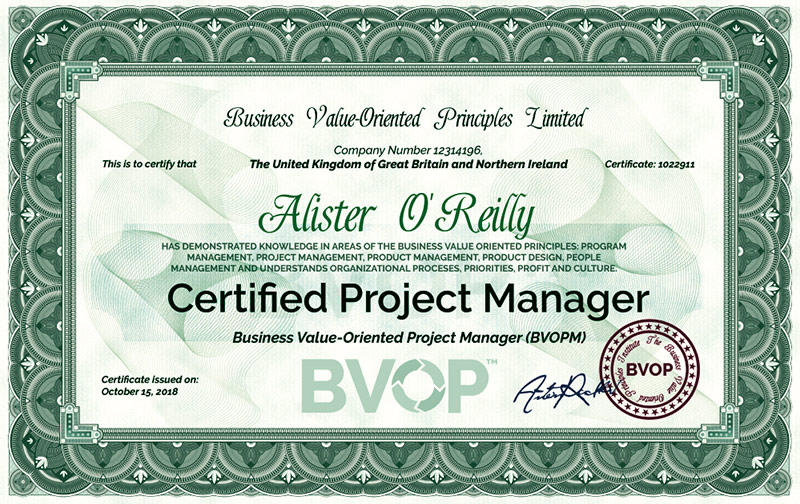 The project lifecycle – Sections, phases, and descriptions
1. Analyzing markets and consumers and creating a business model
Defining target groups. The requirement for a smart washing machine excludes certain age groups. The requirement to integrate only with the App Store is very restrictive, given that in certain countries Apple products are not very common, and on the other hand, the trade war of Huawei, Samsung, and Apple (or iOS vs. Android) leads to an additional segmentation. This staging leads to product placement, highly dependent on Apple's restrictions. At this stage, a recommendation should be made to remove the App Store-only integration restriction and include the Google Play Store.
On the other hand, developing your OS leads to many difficulties, further maintaining a team with non-company specific activity, dependency, as well as mandatory maintenance, OS development, policies for modification, and updating. The existing OSs should be re-examined and a recommendation should be made for the possible use of a standard solution (if any, meets the expected price framework, does not lead to dependencies, etc.)
2. Graphical interface, touch screen, and prototype
This type of UI has to meet several parameters – pad resistance, response, moisture and dust standards, design and ease of use. Directly related to OS development and product design. Manufacturers need to be identified, competitor models analyzed. Prototyping is a hybrid process that depends on the chosen business model, component suppliers, OS development, and UI. These are concurrent processes that must be carefully planned with the necessary tolerance and buffers. After the prototype production, internal functional tests, stress tests, user tests with users of different age groups should be planned.
3. Native operating system and the ability to install additional applications to it from the App Store
In the decision to create your OS, because of the hypotheses above, the RV of the product and the ROI of local resource development and outsource must be analyzed. For the outsource option, a procedure must be initiated through the appropriate purchasing/logistics department. Development, testing, and commissioning must be planned in detail. This is one of the potential stoppers in the project.
4. Remote control capability
This is a requirement associated with many risks that need to be identified, anticipated, assessed, and mitigated. Providing access to the laundry in question means being connected to the Internet in any way, which implies the availability of internet and customer connectivity, compliance with network security policies, protection against various types of network attacks, and prevention of possible theft of personal data and so on. These requirements are governed by ISO 270001, GDPR, NIS, and other specific US and other countries, so it should be assessed in compliance to analyze that it is better not to limit the remote control to the home network. If not, the cost of penetration testing, certification, new Security officer positions and more should be provided.
More real examples from project management practices
This is a real example of a Project Charter document that is extensively used in project management practices and processes. The most common use of…
Project management is not easy and very often we know about just the basics from what we read on the books or the Internet. Real projects require…
Project management in the scope of both software and business classical projects is not easy. In the book Everyday Project Management, Jeff the author, explains deeply…
Read next:
At some point in his career, every manager asks himself, "What kind of leader should I be?" Is it better to be the "good guy" that all employees like or…
Choosing Project Management Software is your first and initial important step. In the Everyday Project Management book…